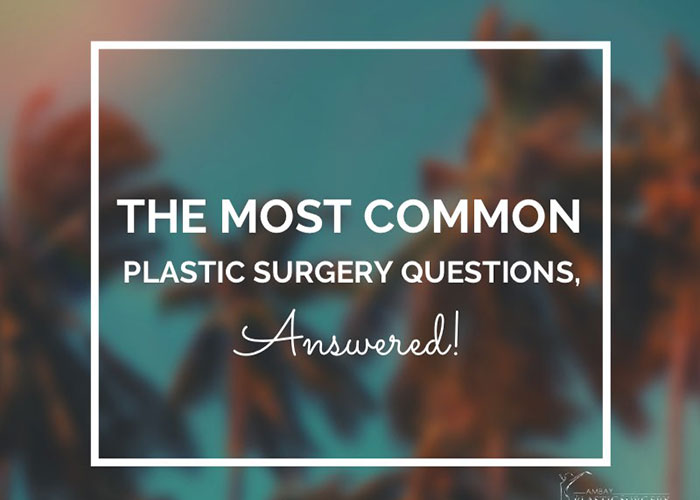 April 20, 2022
The Most Common Plastic Surgery Questions, Answered.
We get many people messaging, calling and inquiring about certain aspects of surgery. Over the years, we've noticed a trend in the questions being asked. For this reason, we decided to put together a list of the most common questions asked about plastic surgery. Read below to get the answers to the questions you've been wondering about…
Q: What Is The Difference Between A Plastic Surgeon And A Cosmetic Surgeon?
A: The titles plastic surgeon and cosmetic surgeon are often confused and used interchangeably. This is especially true in states like Florida, where a doctor can perform cosmetic surgery without requiring the same education and hands-on experience as a plastic surgeon. A plastic surgeon goes through rigorous training and education to specialize in the field of plastic surgery. Cosmetic surgeons do not have the same experience. When choosing a surgeon, a plastic surgeon is recommended, specifically a board certified one. Which brings us to our next point… There are some "boards" that aren't The Board of Plastic Surgery. There are "cosmetic boards" where some surgeons can pay to be on it. It is imperative as a patient to do your research and check that your surgeon is a Board Certified Plastic Surgeon.
Follow this link to ensure your surgeon has the appropriate credentials.
Q: When Should I Consider Plastic Surgery?
A: Plastic surgery can achieve many different goals you may have. It is a big decision to make and you will know when you are ready more than anyone else. However, there are certain instances where a surgeon will recommended you wait on having a surgery performed. For this reason, we recommended speaking to a board certified plastic surgeon and asking if there are any obstacles preventing you from having a surgery. Your surgeon may recommended things such as losing weight before certain procedures, getting your health in check or waiting until you're done having children. If your surgeon agrees that you are ready, they can inform you of the next step to take.
Q: When Should I Consider Facial Plastic Surgery?
A: Facial plastic surgery can address many concerns and offer a more youthful, rejuvenated and sculpted appearance. Areas of improvements can include anything from a droopy face or eyelids to excess fat or even hollowness. If you have concerns with a specific area of your face or with changes due to aging, please consult with a plastic surgeon. Together you both can create a plan to achieve your desired results. Some examples of facial plastic surgery are under eye fat transfer, facelift and brow lift, to name just a few.
Q: How Do I Know If A Surgeon Is Qualified?
A: Plastic surgeons receive specific education to perform plastic surgeries. To verify that your surgeon is a Board Certified Plastic Surgeon, click here.
Q: What Is A Mommy Makeover?
A: A mommy makeover is a term coined to encompass a variety of procedures that address multiple concerns due to the effects of child-rearing and/or the signs of aging. Tummy tucks are recommended for a mother with muscle separation, scar tissue and excess, loose skin. Liposuction is another common procedure that can help reduce the amount of stubborn fat in a specific area(s). Breast lift, augmentation, reduction or a combination of these may help address sagging, enlarged or hollowed breasts. Mommy makeovers are not a one-size fits all approach. They are truly tailored to meet your needs and carefully chosen by your plastic surgeon and yourself.
Q: Should I Lose Weight Before My Tummy Tuck?
A: It is recommended to lose or get as close as possible to your goal weight before surgery. However, in certain cases a person may be experiencing pain and need to have the surgery before the weight loss. Speak to your surgeon and discuss if weight loss would be beneficial before surgery.
Q: Can A Plastic Surgeon Help With Hair Loss?
A: Some plastic surgeons offer hair loss treatments. This can include a hair transplant or other less invasive treatments. A treatment our office typically recommends and performs is PRP hair restoration. PRP is a less invasive treatment that can help with hair loss and thinning. You can learn more about PRP hair restoration by visiting our site here or reading our previous blog post.
Q: Do Men Get Plastic Surgery?
A: Absolutely! There are many different procedures that can be tailored for men to address their concerns. Whether for health or looks, it is a myth that only women get plastic surgery. We personally have seen a huge increase in men seeking plastic surgery within our office. To explore plastic surgery options for men you can visit our website here.
Q: Can Liposuction Help Me Lose Weight?
A: Liposuction will NOT help you lose weight and should not be used as a form of weight loss. Liposuction can help contour and remove areas of stubborn fat. For example, many people will get liposuction on their back and/or stomach to achieve a slimmer, hourglass shape. Liposuction can be performed almost anywhere on the body and can help achieve your goals. However, if you do not maintain your results with proper exercise and nutrition you can gain the excess fat back again.
Q: How Long Is The Recovery Time?
A: Recovery time varies depending on the procedure. Another important factor to consider is the amount of procedures done at once. The more intrusive the procedure and the more procedures performed together, the longer the recovery time will be. There is a more detailed recovery timeline listed in our guide below.
Q: How Soon Can I Return To Work?
A: Discuss with your surgeon how soon you need to return to work. Aside from the type of procedure done, what you do at work physically is also an important factor. You may be limited on the amount you can lift for a period of time. In general, most people return to work within a few weeks.
If you would like to learn more about plastic surgery and what to expect you can download our free Guide to Plastic Surgery below or you may call our office at 813.406.4448.